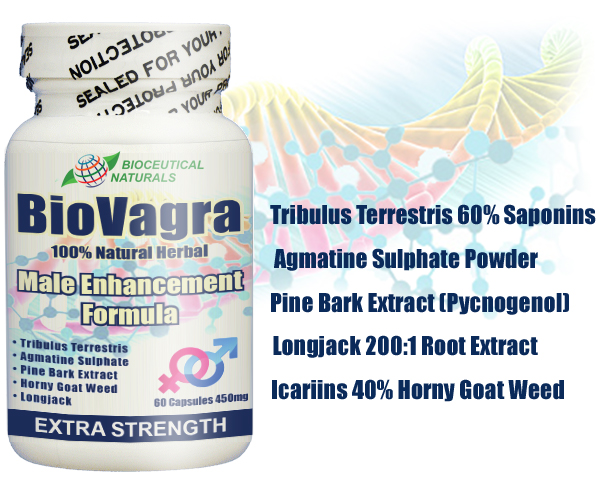 BioVagra Male Enhancement Pills
Why BioVagra is good for you and your sex life..
Why Choose BioVagra Over Modern Synthetic Alternatives?
When compared to synthetic brands that contain sildenafil citrate, BioVagra is a 100% natural herbal formulation alternative that enhances erectile quality and in increasing men's sexual desire!
A key advantage that BioVagra offers over popular herbal alternatives is that it doesn't use cheap fillers and very low extract ratios to mass produce a cheap production product. BioVagra contains only the highest standard extract ratios that can be used on the market for a nutraceutical formulated product "dietary supplement". We encourage you to compare the ingredients of others to see the facts for yourself that we are in a league of our own for the required potency required for effectiveness for this type of product.
BioVagra with its 100% all-natural formulation has shown no major side effects!
Supplement Facts
Serving Size: 1 vegetable capsule
Servings Per Container: 60
Recommended Dose: Adults: Take 2 capsules daily. Consult a healthcare practitioner for use beyond 6 months.
Recommended Use: Helps to enhance sexual desire, libido and daily prostate maintenance.
Amount Per Serving / Montant par portion % Daily Value / de la valeur quotidienne*
Tribulus Terrestris 60% Saponins………………..120mg †
/ Tribulus terrestris 60% de saponines
Agmatine Sulphate Powder………………………120mg †
/ Agmatine Sulfate Poudre
Pine Bark Extract………………………………….120mg †
/ Extrait d'écorce de pin
Longjack 200:1 Root Extract………………………60mg †
Longjack 200:1 Extrait une racine
Epimedium 40% Icariins (Horny Goat Weed)……30mg †
/ 40% Icariins Epimedium (Horny Goat Weed)
* Percent Daily Values are based on 2,000 calorie diet.
† Daily Value not established.


NON-MEDICINAL INGREDIENTS: Magnesium Stearate, Microcrystalline Cellulose, Hypromellose/Pullulan (Vegetarian Capsule).
BioVagra enhances sex drive, promotes sexual arousal, and increases stamina and recovery. For sexual encounters that are planned or spontaneous, BioVagra promotes Extreme Pleasure!
Warning: Do not take if you are currently taking nitrates for chest pain or if you are taking erectile dysfunction medication. Do not use if pregnant or nursing. This product is only intended to be consumed by healthy adults 18 years of age or older. Before using this product consult with your physician. Do not use if safety seal is broken or missing. Keep out of reach of children. Do not exceed recommended dose.
Searches